Don't be part of the problem, be part of a solution.
Adopt your next pet from a shelter or rescue group.



No matter what type of breed you are looking for, there is a shelter or purebred rescue group that has just the right pet for you. Here are two good resources for finding your next pet.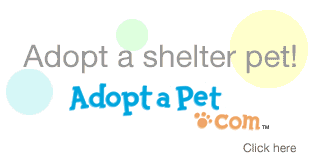 Before buying a pet from a pet store or breeder, please know all the facts and do the research. Here are some links to get you started:


Humane Society of the United States
Oprah's Show on Puppy Mills